Launch the brave little squirrels to collect all nuts.
Developer:
FlashRushGames
Game Type:
Puzzle Physics game
Game Plays:
29304
Filesize:
6.86 MB
Rating:

4.37 out of 5

TRY THESE ALSO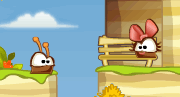 Reunite an alien with his girfriend by flipping the world in this puzzle platformer.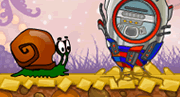 Guide Snail Bob through space.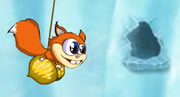 A cute Cut the Rope style game, feed the little squirrel.
MULTIPLAYER GAMES
| | | |
| --- | --- | --- |
| | | |
| Build, grow and manage your own farm! | Run your own farm full of cuddly creatures. | Build your own castle, create a powerful army and crush the enemy. |
| | | |
| Develop your online-airport into a bustling international hub. | Architect your own zoo full of adorable animals to take care of. | Fight against thousands of real-time opponents in this action space combat game. |
HOT NEW GAMES
| | | |
| --- | --- | --- |
| | | |
| | | |
| Fight your way to the top as a Gladiator Bear in this epic RPG-brawler. | Run, jump and try not to die in this classic platformer. | Reunite an alien with his girfriend by flipping the world in this puzzle platformer. |
| | | |
| | | |
| Build and manage your own tower building. | Upgrade your car and stay ahead of the evil truck chasing you. | Arm yourself to the teeth and fight the evil humans that have crash landed on your planet. |
| | | |
| | | |
| Guide Snail Bob through space. | Beat your opponent in a table pulling contest. | Build your own castle, create a powerful army and crush the enemy. |
POPULAR GAMES
| | | |
| --- | --- | --- |
| | | |
| | | |
| Build and manage your own holiday resort! | You are the most awesome Llama in the Zoo! | Create your own monster themepark. |
| | | |
| | | |
| Sneak into a waterpark, get past security and find back your buried treasure. | Battle pirates, the royal navy and creatures too horrible to mention! | Upgrade your car and make your way through the zombie infested desert. |