Command a squad of marines in this 3D tactical battle game.
Developer:
Ed 'Ryzed' Ryzhov
Game Type:
Action game
Game Plays:
428552
Filesize:
9.75 MB
Rating:

4.57 out of 5

TRY THESE ALSO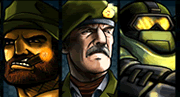 Equip your soldiers with thousands of weapons and upgrades in this epic shooter.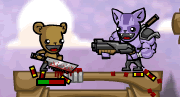 Build a team of bear warriors and defeat the enemy.
An action packed deathmatch shooter.
MULTIPLAYER GAMES
| | | |
| --- | --- | --- |
| | | |
| Build, grow and manage your own farm! | Raise animals, watch your crops flourish and work hard to grow your own farm. | Run your own farm full of cuddly creatures. |
| | | |
| Choose between humans or cylons and battle for galactic supremacy. | Epic 3D battles now in your browser! | Become a swashbuckling pirate and leader of the mighty ocean! |
HOT NEW GAMES
| | | |
| --- | --- | --- |
| | | |
| | | |
| Put your TV through a series of trail-and-error experiments in this puzzle platformer. | Run your own Italian pasta restaurant! | Upgrade your vehicle and turn it into a zombie killing machine! |
| | | |
| | | |
| Protect your village from angry dinosaurs! | Flip cards to beat evil creatures in this fun game of Concentration. | Escape an office building filled with traps. |
| | | |
| | | |
| Satisfy a thirsty piranha's appetite for blood. | Explore an alien and hostile world in this survival horror shoot'em up. | Lead your species to victory in this strategic territory game. |
POPULAR GAMES
| | | |
| --- | --- | --- |
| | | |
| | | |
| Create your own monster themepark. | Forge weapons and send your warriors to battle! | Dig a way towards the center of the earth! |
| | | |
| | | |
| Upgrade your tank and cause maximum destruction. | Defend your kingdom from the attacking enemy hordes. | Upgrade your piggies and guide them safely to Pigsland. Follow the leader! |